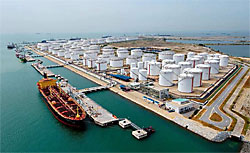 Over 25 years of commercial experience
in the global petrochemical sector
Leslie has over 25 years of commercial experience in the global chemical sector and, as Sales & Marketing Director, has 5 years of Board-level achievement in leading and transforming international chemical businesses, and their sales/marketing operations.
An independent petrochemical

and petrochemical supply chain Consultant, focused on the high growth Middle East but with global capability.

Provides immediate

, increased resource and expertise on an interim basis for management consultancies, sector-specific consultancies, supply chain consultancies, producers, business advisory firms, investors and petrochemical supply chain service providers.

Provides interim support

and expertise for market feasibility projects, market entry strategy, partner evaluation, M&A, due diligence, strategic positioning and supply chain evaluation and assessment.

25 years of commercial experience

in the global chemical and petrochemical supply chain sectors with multi-product experience in the major petrochemical value chains.

Former Board member

and Sales & Marketing Director of a $500m multinational specialty chemical business and a $50 million SME. Responsible for P&L delivery, strategic development and business transformation.

Created new business lines

, turned around businesses, run them for cash, bolstered margins in mature businesses, accelerated top line growth, integrated multinational businesses.

Highly effective hands-on

, commercial capability is combined with the strategic perspective and analytical skills of an MBA and former Equity Analyst.

Thoroughly international perspective

- born in Kuwait and lived in Middle East for 16 years, in Belgium for 8 years, and in the USA and South Africa.

Invited to represent UK

at UK/Saudi business networking event during 2007 State visit to London of King Abdullah bin Abdul Aziz Al Saud, Custodian of the Two Holy Mosques. Accompanied the Middle East Association Trade Mission to Saudi Arabia in 2007 and 2009.
Career Dates
| | | |
| --- | --- | --- |
| 2006 - | Managing Director | Chemical Management Resources |
| 2003-2006 | Sales & Marketing Director (Board Member) | Linde |
| 2001-2003 | Global Sales & Marketing Director (Board Member) | Synthomer (part of Yule Catto) |
| 2000-2001 | European Equity Analyst | ING Barings |
| 1996-2000 | European Business Manager Automotive | Lyondell Chemical Inc. |
| 1995-1996 | European Sales & Marketing Manager | Lyondell Chemical Inc. |
| 1987-1995 | European Marketing Manager | ICI Polyurethanes (Brussels) |
| 1986-1987 | MBA | Cranfield & Washington (USA) |
| 1979-1986 | Sales, Ship Chartering & Business Management | BP Chemicals |
---
Education
| | |
| --- | --- |
| 2001 | Chartered Financial Analyst (Level 1), London |
| 1987 | MBA: Cranfield, UK & Washington, USA |
| 1984 | Diploma in Marketing, Institute of Marketing |
| 1979 | BSc Honours Chemical Engineering, Surrey University & South Africa |
---
Languages
French (good), German (familiarity), Arabic (basic)